Regular price
$270.00 USD
Regular price
Sale price
$270.00 USD
Unit price
per
Sale
Sold out
More often than not, the snail forgot about the thief. And yet, it was still the only being able to remember it. The poor thief. Terribly misunderstood, disliked, and thought of as evil by all…was alone. 
In a world consisting of light and darkness, of hearts and eyes, of timber and stone, the thief was nothing. Before the beginning, when everything consisted of nothing, the thief thought of itself as something. Quite quickly, however, as suns formed and universes crystalized, the thief wept.
Share
Specifications

14.5oz black selvedge denim
Full grain cowhide patch
Custom YKK buttons
Made in Canada
Sizing

You can expect the jacket to shrink 3 - 5% after washing, the jacket will stretch out after wear.
Don't buy a jacket that is too small hoping it will stretch, buy your size!
Are you in between sizes? Buy the larger size.
Pit to pit is half of your chest size. Aka if the P2P is a 19" that's a 38" chest.
Sleeve measurement here is from center back to end of cuff. NOT shoulder seam to cuff. That's why it may seem quite long.
View full details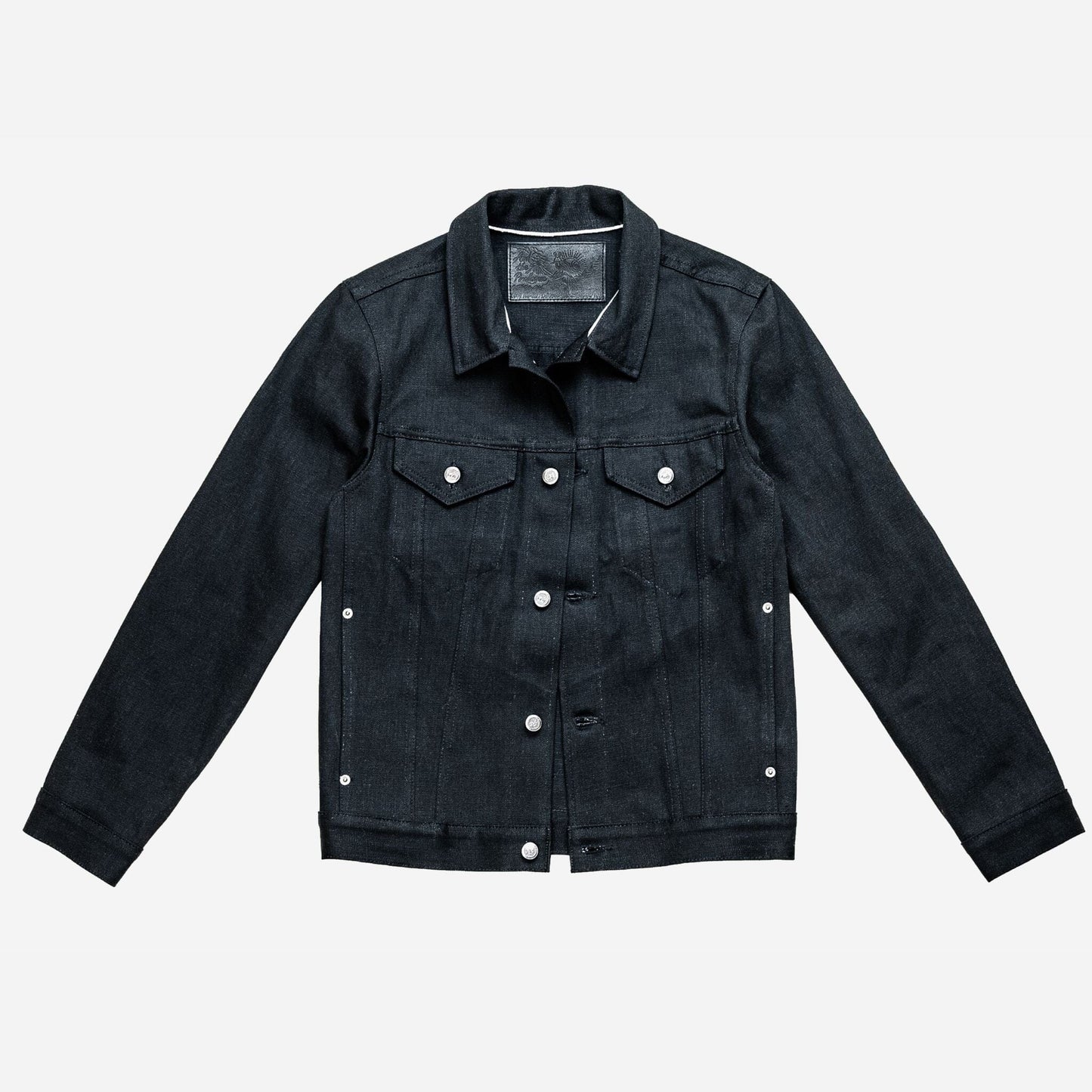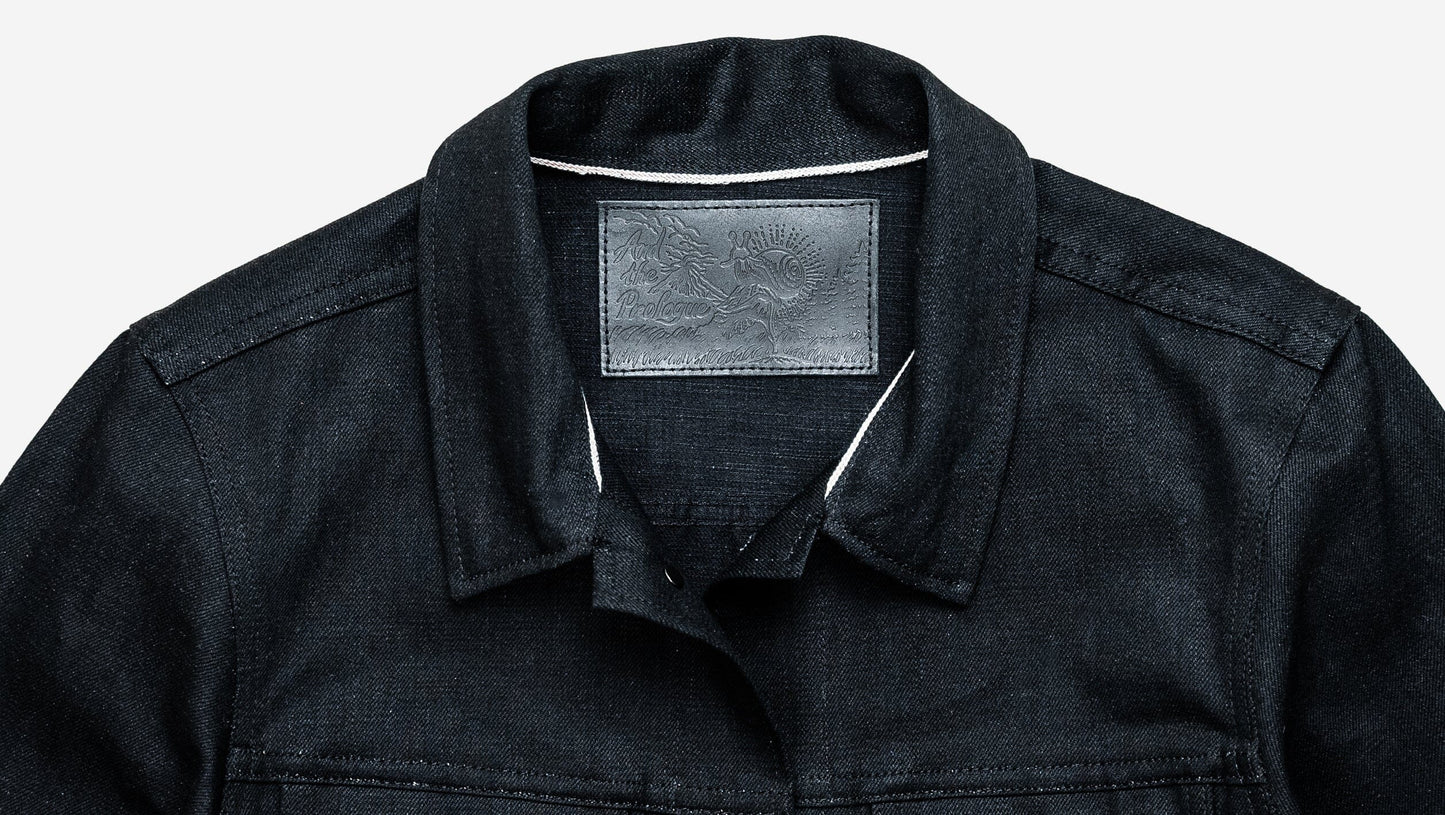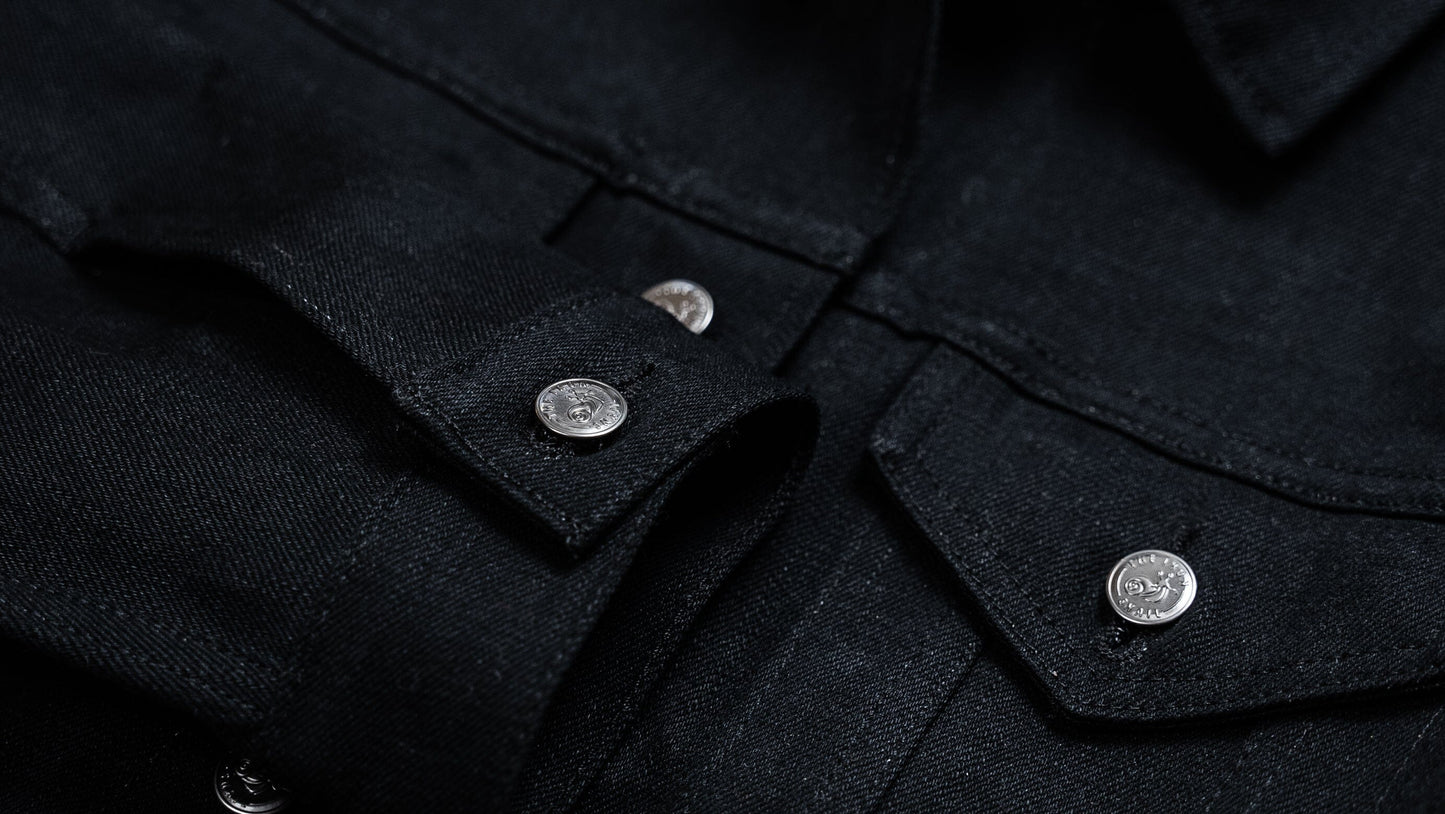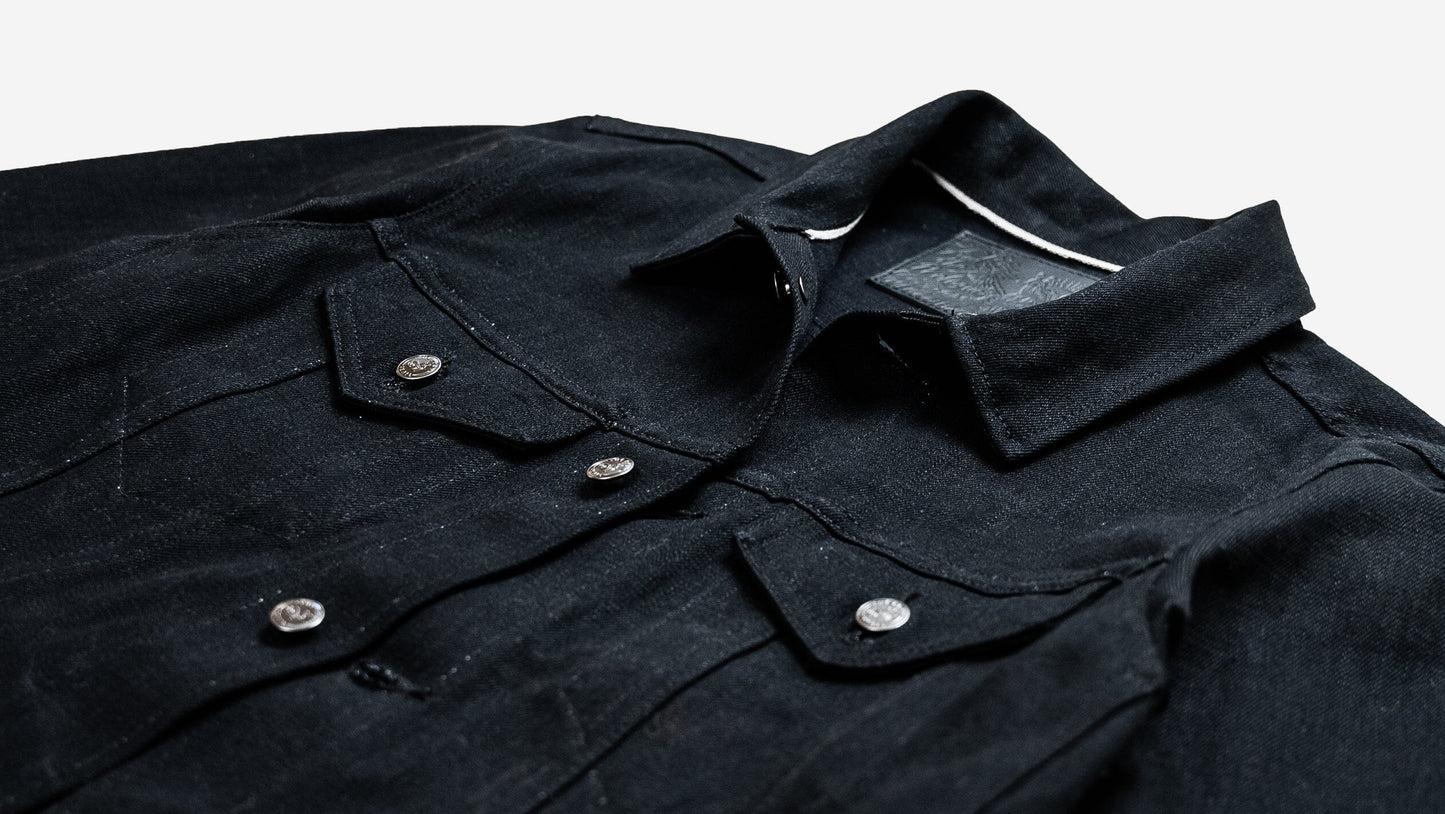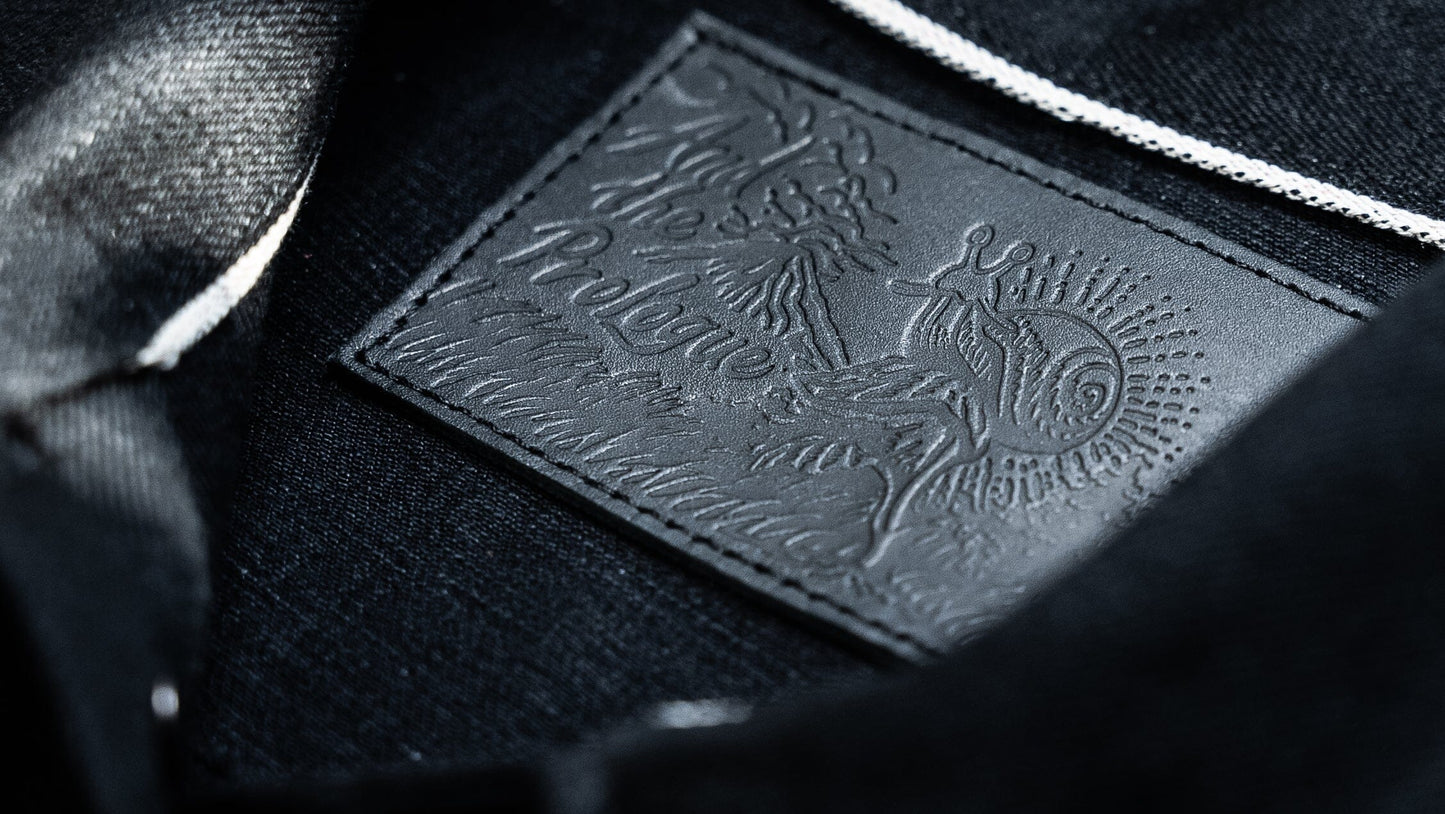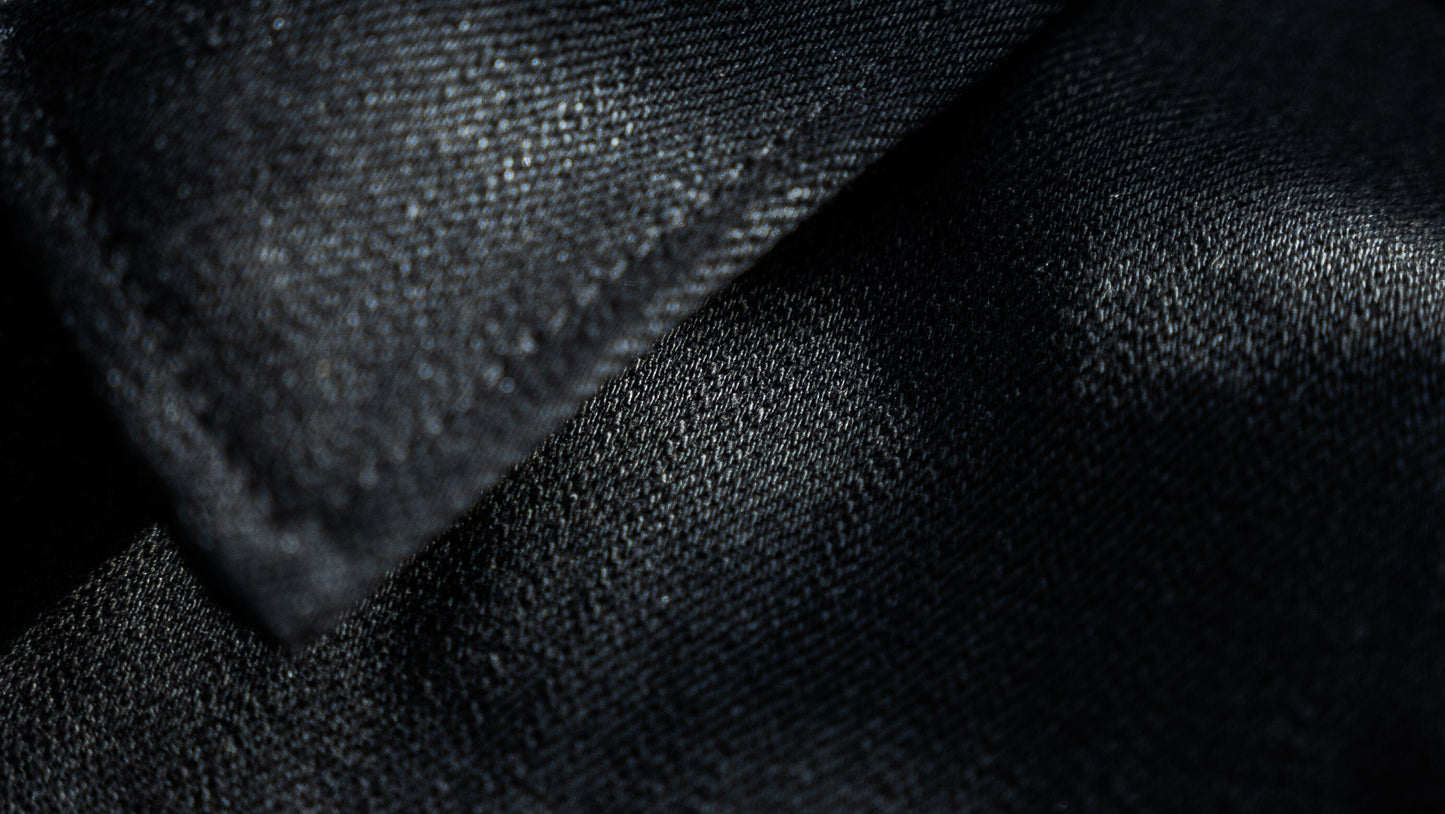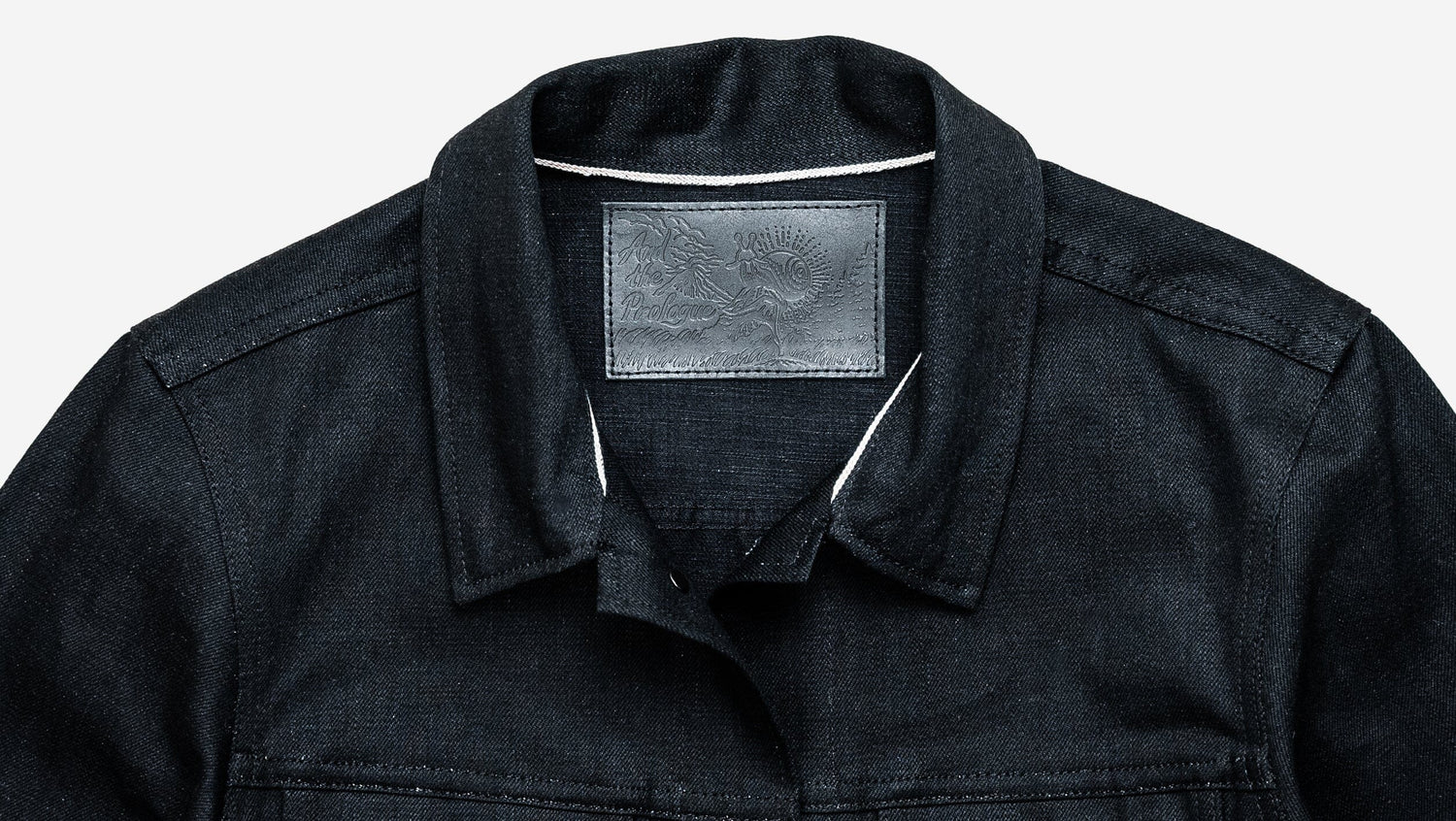 The Tale of The Iron Snail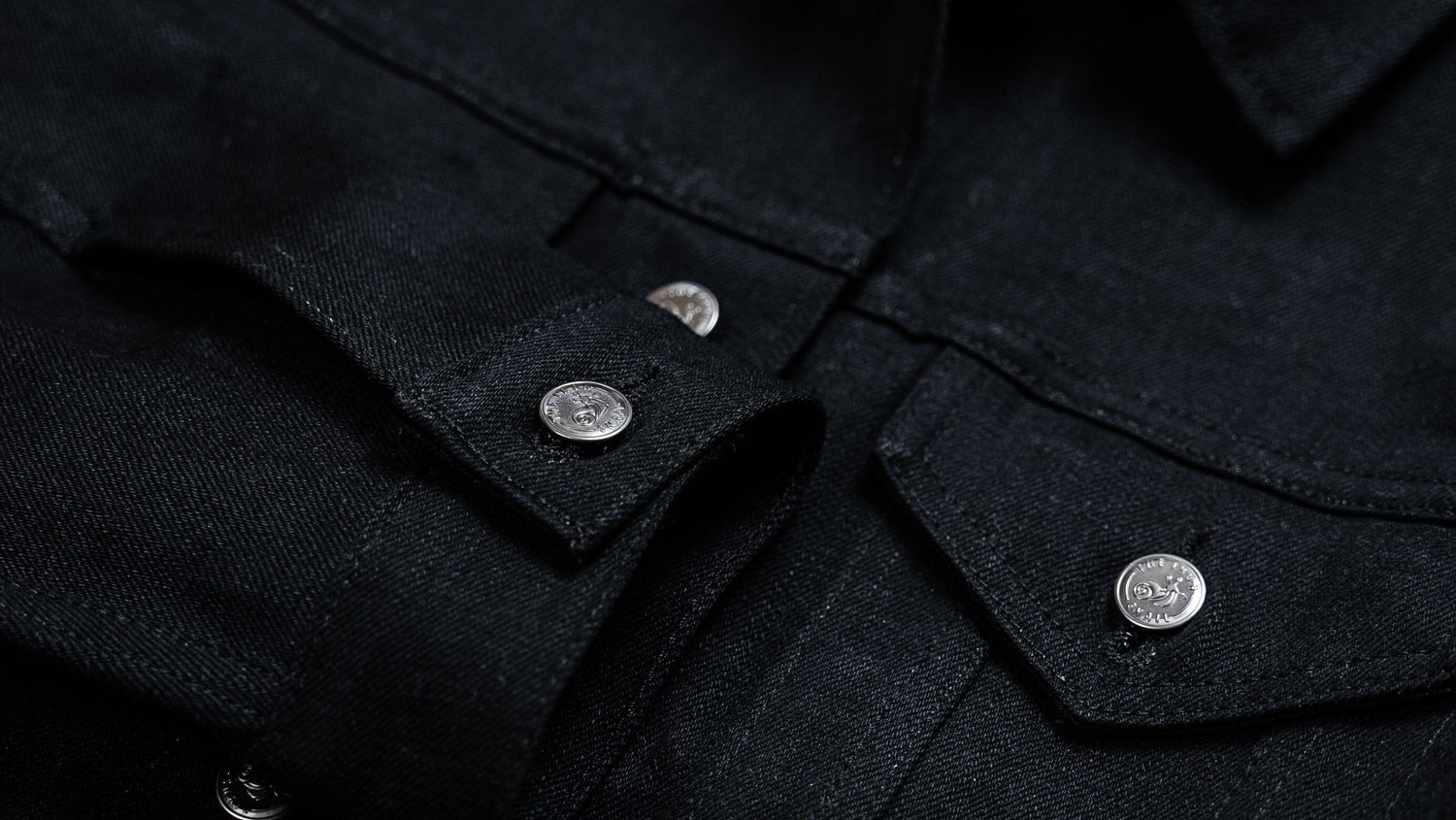 Japanese Selvedge Denim 101
Why Use Japanese Denim?

Japan romanticizes denim to the highest degree.

Essentially, denim in the 21st century has been perfected, and if there are any 'flaws' left, I'm sure some bigwig executive with a cigar in their mouth is going to scream and slam their fists on their table until that 'flaw' is gone.

What do I mean by flaw? Well, of course, denim can have actual manufacturing flaws BUT their can also be inconsistencies in the cotton threads when creating denim. The result of those inconsistencies in the thread cause something called "slub" or "nep". More on that later, gator. 

The interesting part about these "flaws" though is that they don't really make the denim any weaker...but they do make denim production slower, which is not good when you're trying to pump a trillion jeans out.

Japan has all the time in the world though. Well, not really, but there is clearly a market for denim done a different way (i.e. with these "flaws", with better cotton, with old looms, etc.)

Japan became obsessed with denim and essentially mastered it like never before. They saw these "flaws" as art and went on to become the best denim artists in the world. They didn't mind that it took a little longer for the denim to be loomed.

This is not to say there isn't amazing denim being produced all around the world of course -- Japan just is on a different level with denim as an art form.
Why Use Raw Denim?

First off, raw denim is simply denim that has not been washed yet. It's stiff because the fabric is starched so it can be sewn together easier...but that makes some magic happen later.

Raw denim is amazing. I'm drooling just typing this. I love raw denim. So the real question isn't, "why use raw denim?", it's, "...why am I drooling?"

Denim is one of the few things in the world that objectively gets better with age: it softens, the indigo varies in color, and rips in the denim let the white warp poke through. All in all, the more you wear it the more beautiful it becomes. 

Most denim today is pre-distressed, singed, etc. It's like buying a diary with someone else's days in it. There is nothing wrong with that, it's just extremely bad. 

In all seriousness though, raw denim is fun and uniquely yours. You are getting a garment that is completely untouched after it's stitched together. It'll be stiff and crunchy until you give it a good rinse or wash and that first rinse and wash will bring out character in the denim that you couldn't see before. As you wear the denim in, it'll continue to soften, fade in areas of high wear, and start to form unique designs and creases based off of how you move. 

The more you wear it the more yours it becomes.

Is your denim too stiff? Just f'ing wash it. It's okay, I promise. When you buy a jacket we'll include a little note card that talks all about this.
What is Selvedge Denim?

Thank you for asking.

The only difference between selvedge denim and non-selvedge denim is the edge of the fabric. Selvedge denim has a "self-finished" edge, meaning, that when it comes off the loom, the fabric won't fray or unravel. Non-selvedge denim typically uses an overlock seam to prevent the fabric from fraying.

Selvedge denim looks dramatically sharper and cleaner than non-selvedge. Typically the selvedge line on denim is white with a colored ticker running through it. The most common color is red.
What is slub and nep?

Ah, slub! Oh, nep!

These are terms used to describe the character of denim. 

Slub:

"Slub" sounds like "slug" and some people have accidentally called this brand, "The Iron Slug" which is wrong. 

With some denim you may see that the texture varies a bit. Some threads may look larger or thicker. That's slub! Slub occurs when irregularly sized yarn is used on the loom and or the loom is set to a very low tension when the denim is being woven. 

Slub will make denim feel a bit "rougher" or like it's more three-dimensional. It'll also change the fade pattern of the denim -- the thicker yarns fade faster than the thinner ones.

Nep:

Now let "The Iron Slug" tell you what nep is. 

Nep is the result of small knots on the yarn being woven into denim. They create little "puffs" in the denim that add a bit more texture and change the feel.

Typically nep is pretty light and not very noticeable, but if you look close and run your hand over the denim, you'll feel tiny flecks or bumps -- that's nep!
Amazing jacket that is both casual and formal enough for any day of any week
Great Design, Many Fades to Come!
I'm very happy with the Thief's prologue! It's great denim, beautifully cut that should last and fade for very long time. All the little features, buttons, the accompanying Tale, make it all the more interesting. I'm a happy customer who is looking with anticipation at where The Iron Snail will go next.
My coolest denim jacket for sure
Incredible, premium quality denim jacket. I have huge respect for the thought that went into the fit and design of the jacket. The real delight for me is the branding and story telling of the Iron Snail. I look forward to following the story as it unfolds, and collecting the articles of clothing left in its path.
hits the ball out of the park
quality garment with great customer service. mui bueno
Let customers speak for us